Hotels in Dodekanisa, Dodecanese islands, Greece

Destinations and regions in Dodekanisa, Dodecanese islands where you can find hotels. Select a destination, to display hotels listed in this region.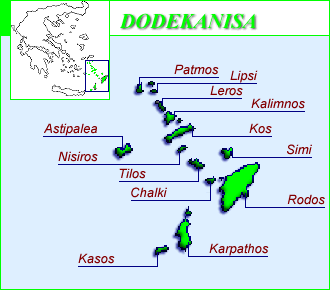 Hotels in
Astipalea (Astypalea), Dodekanes, Agios Andreas, Agios Konstantinos, Analipsi, Livadi, Vathi
Hotels in
Chalki
Hotels in
Kalymnos, Masouri, Mirties, Panormos
Hotels in
Karpathos, Amoopi, Arkasa, Diafani, Pigadia
Hotels in
Kasos, Fri (Fry), Agia Marina, Arvanitochori, Emporios, Panagia
Hotels in
Kos, Agios Stefanos, Kardamena, Kefalos, Lampi, Marmari, Mastichari, Tingaki
Hotels in
Leros, Lakki, Agia Marina, Panteli, Platanos
Hotels in
Lipsi, Platis Gialos
Hotels in
Nisiros
Hotels in
Patmos, Agriolivado, Diakofti, Grikos, Kampos, Lampi, Lefkes, Psili Ammos, Skala
Hotels in
Rhodes (Rodos), Archangelos, Afantou, Faliraki, Ialissos (Trianta), Kalithies, Lindos
Hotels in
Simi
Hotels in
Tilos, Megalo Chorio, Livadia
Nahmobil
www.nahmobil.com
Nahmobil - the portal for travelling with public in Europe. Bus, train, ferries, flights, etc. and much more - sightseeing, places, etc).
The weather in Greece
Wetter online
Worldwide information about the weather all over the world with charts and maps.
Recommended links
Statistics
Users online: 78
Visits today: 697
Hits today: 4476
Visits total: 5616098
Hits total: 132048350
Counting since: 2012-01-01