Hotels in Sterea Ellada, Central Greece, Greece

Destinations and regions in Sterea Ellada, Central Greece where you can find hotels. Select a destination, to display hotels listed in this region.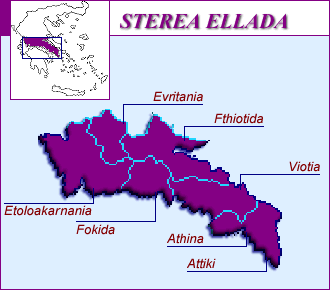 Hotels in
Athens (Athina, Athena), Acropolis, Akropolis, Alimos, Egaleo, Glyfada, Ilioupoli, Keratsini, Kifisia, Marousi, Neo Psichiko, Parthenon, Pireus, Voula, Vouliagmeni
Hotels in
Attica (Attiki), Airport Eleftherios Venizelos, Anavissos, Elefsina, Marathonas, Markopoulo, Nea Makri, Parnitha, Peania, Penteli, Rafina, Sounio, Spata, Varkiza
Hotels in
Etoloakarnania, Mesolongi, Agrinio, Amfilochia, Antirio, Etoliko, Menidi, Mytikas, Nafpaktos, Paleros, Thermo
Hotels in
Evritania, Karpenisi, Agia Triada, Domnitsa, Koryschades, Krikelo, Megalo Chorio, Velouchi, Voutyro
Hotels in
Fokida, Amfissa, Agia Efthimia, Artotina, Delfi, Eptalofos, Eratini, Galaxidi, Gravia, Itea, Lidoriki, Monastiraki, Polydroso, Tichio, Trizonia, Gkiona, Parnassos
Hotels in
Fthiotida, Lamia, Agios Konstantinos, Agios Serafim, Amfiklia, Arkitsa, Atalanti, Glyfa, Kamena Vourla, Kato Tithorea, Platistomo, Stylida, Thermopyles
Hotels in
Viotia, Arachova, Livadia, Antikyra, Distomo, Thiva, Vagia
Nahmobil
www.nahmobil.com
Nahmobil - the portal for travelling with public in Europe. Bus, train, ferries, flights, etc. and much more - sightseeing, places, etc).
The weather in Greece
Wetter online
Worldwide information about the weather all over the world with charts and maps.
Recommended links
Statistics
Users online: 64
Visits today: 1454
Hits today: 5827
Visits total: 5620794
Hits total: 132080258
Counting since: 2012-01-01