Hotels in Peloponnisos, Peloponnese, Greece

Destinations and regions in Peloponnese where you can find hotels. Select a destination, to display hotels listed in this region.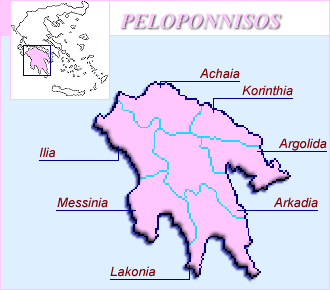 Hotels in
Argolida, Nafplio, Argos, Drepano, Epidavros, Ermioni, Kranidi, Mykines, Porto Cheli, Tirintha, Tolo
Hotels in
Arkadia, Tripoli, Agios Petros, Astros, Dimitsana, Karitena, Langadia, Levidi, Leonidio, Parnonas, Stemnitsa, Tyros, Vitina
Hotels in
Ilia, Pyrgos, Amaliada, Gastouni, Kaiafas, Katakolo, Krestena, Olympia, Zacharo
Hotels in
Korinthia, Korinthos, Derveni, Isthmia, Kiato, Korfos, Loutraki, Nemea, Xilokastro, Stimfalia, Trikala
Hotels in
Lakonia, Sparti (Sparta), Areopoli, Archangelos, Elafonisos, Gerolimenas, Gythio, Monemvasia, Mystras, Neapoli, Itilo (Oitylo), Pyrgos Dyrou, Vathia
Hotels in
Messinia, Kalamata, Agios Andreas, Chora Trifilias, Finikounta, Gargaliani, Kardamili, Koroni, Kiparissia, Methoni, Messini, Petalidi, Pilos, Stoupa
Nahmobil
www.nahmobil.com
Nahmobil - the portal for travelling with public in Europe. Bus, train, ferries, flights, etc. and much more - sightseeing, places, etc).
The weather in Greece
Wetter online
Worldwide information about the weather all over the world with charts and maps.
Recommended links
Statistics
Users online: 68
Visits today: 1434
Hits today: 5714
Visits total: 5620774
Hits total: 132080145
Counting since: 2012-01-01