LIBERTY HOTEL, Golden Beach, Thassos, Macedonia
Categories
HOTELS (1)
( Skala Panagias )
HOTELS (1)
( Golden Beach )
HOTELS (8)
( Skala Potamias )
( Astris )
( Golden Beach )
( Skala Potamias )
( Skala Potamias )
( Limenas )
( Golden Beach )
( Thimonia )
AP.-STUDIOS E (-) (3)
( Kallirachi )
( Limenaria )
( Skala Potamias )
AP.-STUDIOS C () (1)
( Skala Panagias )
AP.-STUDIOS B () (5)
( Skala Potamias )
( Thassos )
( Skala Panagia )
( Prinos )
( Skala Panagias )
VILLAS D () (1)
( Skala Potamia )
Contact - Summer
LIBERTY
HOTEL
SKALA PANAGIAS
GR-64004 THASSOS
Phone: +30 25930 61145, +30 25930 22283
Fax: +30 25930 61590
Mobile: +30 6938 421109
Contact - Winter
LIBERTY
HOTEL
SKALA PANAGIAS
GR-64004 THASSOS
Phone: +30 25930 61145, +30 25930 22283
Fax: +30 25930 61145
Mobile: +30 6938 421109
| | |
| --- | --- |
| Category | C (**) |
| Rooms | 8 |
| | 23 |
WITH VIEW TO THE SEA


Photos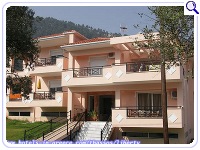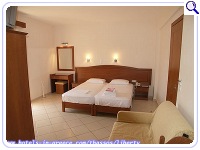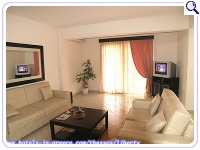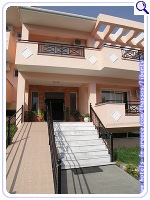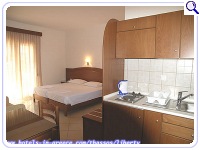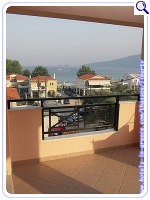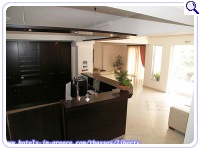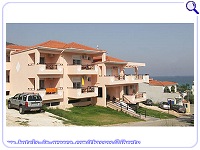 Description - Complex
In the region Skala Panagias (Golden Beach) on the beautiful and green island of Thassos, in an area of 1,000m2 and at a distance of just 50m from the beach there is the HOTEL APARTMENTS LIBERTY. It is a newly built, modern two-storied building that has 8 single-spaced apartments. It also has a parking lot and a lounge in the reception area, while all rooms have a view of the green mountain and the splendid sea.
Description - Rooms, Apartments
All the apartments are 25m2, offer fully equipped kitchen, refrigerator, dining room and armchair (that can also be transformed into a bed) and bathroom. There are also satellite television, air conditioning, hairdryer and comfortable verandas with beautiful view.
Description - Location, Distances
Chrisi Ammoudia (Golden Beach) in Skala Panagias is located 11km away from the Port. In the region you can find marketplace, taverns with fresh fish of the island, and you can also taste the traditional sweet preserves. There are also bars and cafeterias. There is the possibility of daily excursions all over the island. Thassos is famous for its splendid beaches, like Makriammos, Psili Ammos as well as for sights like the Archaeological Museum of Thassos, the Ancient Theatre with live shows, the Ancient Market (Agora) and the Citadel (Acropolis). Of course there is also the possibility of alternative forms of tourism such as water sports and path hiking to the highest mountaintop of the island (Ypsario).
Rates / Day / Room for the year 2015
All Rates in Euro ( € )
01.05.-31.05.
01.09.-31.10.
01.06.-30.06.
01.07.-31.08.
-
-
€
+
€

Breakfast: -

Lunch: -

Dinner: -
We cooperate with
SPECIAL OFFERS
Book now online and save money!
Statistics
Users online: 58
Visits today: 2247
Hits today: 8520
Visits total: 4191452
Hits total: 118516329
Counting since: 2012-01-01

Special needs
Click here for a list with all hotels which provide also acommodation for people with special needs.
Pets allowed
Take your pet with you. Click here for a list with all hotels in Greece where pets are allowed.

Alternative Tourism
Extreme sports - all year long. Rafting, Kayak, Canyoning, Jeeping, Mountain Bike, Paintball, Archery, Trecking ...
Nahmobil
www.nahmobil.com
Nahmobil - the portal for travelling with public in Europe. Bus, train, ferries, flights, etc. and much more - sightseeing, places, etc).
The weather in Greece
Wetter online
Worldwide information about the weather all over the world with charts and maps.
Recommended links