INIOCHOS HOTEL, Komnina, Xanthi, Thrace
Categories
HOTELS (1)
( Iamatika Loutra Potamia )
AP.-HOTELS A () (1)
( Komnina )
AP.-STUDIOS C () (1)
( Stavroupoli )
AP.-STUDIOS A () (1)
( Stavroupoli )
BUNGALOWS A () (1)
( Toxotes )
Contact - Summer
INIOCHOS
HOTEL
KOMNINA
GR-67062 XANTHI
Phone: +30 25420 21008
Fax: +30 25420 21008
Mobile: -
Contact - Winter
INIOCHOS HOTEL
KOMNINA
GR-67062 XANTHI
Phone: +30 25420 21008
Fax: +30 25420 21008
| | |
| --- | --- |
| Category | A (****) |
| Rooms | 3 |
| | 18 |
Email: -
MHTE: -
OPEN ALL YEAR ROUND


Photos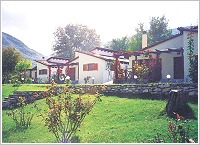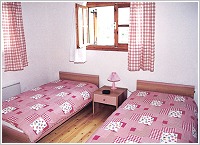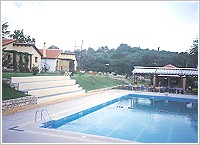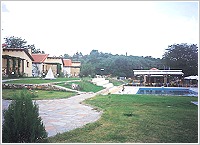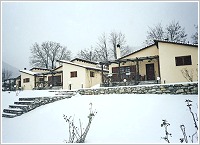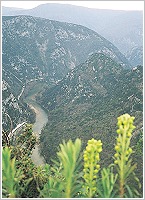 Description - Complex
The touristic unit of INIOCHOS, is situated on the valley of Nestos, at the new-built area of Komnina. It composes an ideal motive for a charming meeting with Nestos and Rodopi. It is composed of 3 independent apartments capacity of 6 persons. There is also a small fountain, that provides the necessary coolness the summer months.
Description - Rooms, Apartments
Each apartment is composed of 2 double bedrooms, two bathrooms, a fully equipped kitchen and a double bedroom in the living room in each one of the apartment with fireplace and TV. The foyer of the hotel is ideal for you to meet your company , for your breakfast or your drink, chatting in the night beside the fireplace.
Description - Location, Distances
It is surrounded of a huge area with lawn, tennis and basket courts, an area for archery, while the summer months there is swimming pool and an open-air bar. There are places where you would like to visit, such as the Virgin Forest of Fraktos, Elatia forest, the barriers of Platanovrisi e.c.t.. We are 40km from Drama and 48km from Xanthi.
Rates / Day / Room for the year 2015
All Rates in Euro ( € )
01.01.-31.12.
-
-
-
-
€

Breakfast: -

Lunch: -

Dinner: -
We cooperate with
SPECIAL OFFERS
Book now online and save money!
Statistics
Users online: 76
Visits today: 778
Hits today: 8756
Visits total: 4382436
Hits total: 120630563
Counting since: 2012-01-01

Special needs
Click here for a list with all hotels which provide also acommodation for people with special needs.
Pets allowed
Take your pet with you. Click here for a list with all hotels in Greece where pets are allowed.

Alternative Tourism
Extreme sports - all year long. Rafting, Kayak, Canyoning, Jeeping, Mountain Bike, Paintball, Archery, Trecking ...
Nahmobil
www.nahmobil.com
Nahmobil - the portal for travelling with public in Europe. Bus, train, ferries, flights, etc. and much more - sightseeing, places, etc).
The weather in Greece
Wetter online
Worldwide information about the weather all over the world with charts and maps.
Recommended links