ARTINA HOTEL, Marathoupoli, Messinia, Peloponnese
Categories
HOTELS - (3)
( Kalo Nero )
( Koroni )
( Pylos )
HOTELS (3)
( Marathoupoli )
( Methoni )
( Finikounda )
HOTELS (5)
( Methoni )
( Kyparissia )
( Methoni )
( Pylos )
( Stoupa )
AP.-HOTELS D () (2)
( Kalamata )
( Finikounda )
AP.-HOTELS B () (5)
( Kiparisia )
( Pylos )
( Kalo Nero, Kyparissia )
( Mani )
( Kalo Nero )
AP.-HOTELS A () (1)
( Kala Nera )
AP.-STUDIOS E (-) (2)
( Kardamili )
( Stoupa )
AP.-STUDIOS C () (1)
( Episkopi )
AP.-STUDIOS B () (3)
( Koroni )
( Methoni )
( Pilos )
AP.-STUDIOS A () (3)
( Gefiraki, Marathopoli )
( Kalo Nero, Kyparissia )
( Kalamaki )
BUNGALOWS E (-) (1)
( Marathopoli )
BUNGALOWS B () (1)
( Petalidi )
VILLAS B () (1)
( Finikounda )
Contact - Summer
ARTINA
HOTEL
MARATHUPOLI
GR-24400 MESSINIA
Phone: +30 27630 61400
Fax: +30 27630 61402
Mobile: -
Contact - Winter
ARTINA
HOTEL
MARATHOUPOLI
GR-24400 MESSINIA
Phone: +30 27630 61400
Fax: +30 27630 61400
Website of this complex

www.artina.gr
Email: -
MHTE: -
OPEN ALL YEAR ROUND
RIGHT BY THE SEA

Photos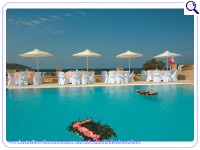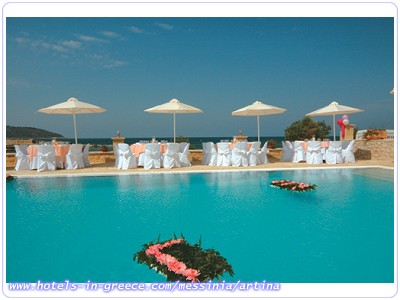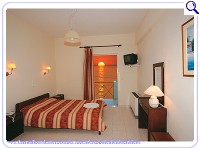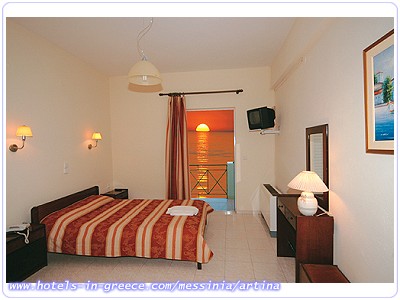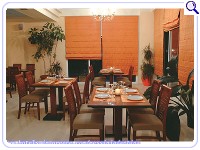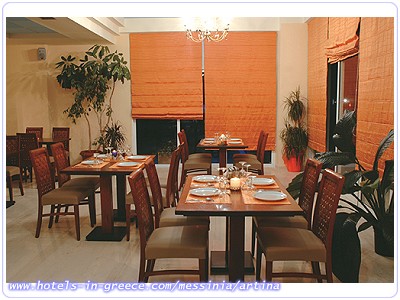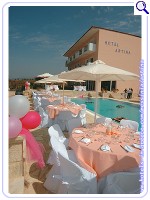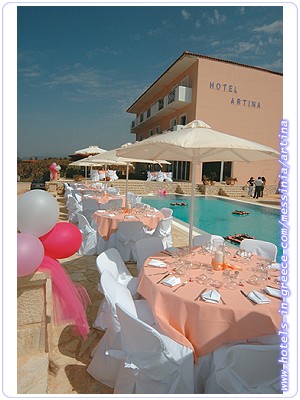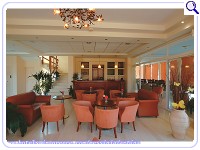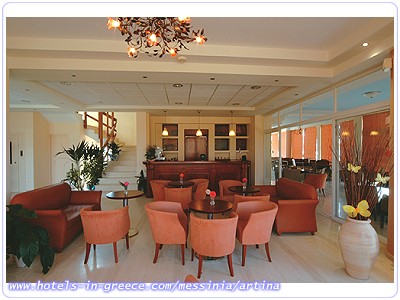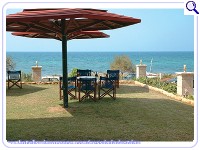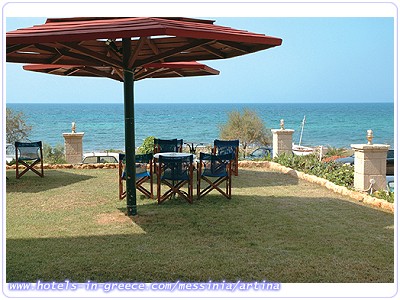 Description - Complex
The ARTINA hotel is provided with restaurant, bar, cafe. The comfortness that the staff and the management offers, it ensure you an ideal stay for unforgettable vacations. With own Parking.
Description - Rooms, Apartments
It is provided with 24 rooms (54 beads) fully equipment wit shower/WC, TV, telephon, music 2 channel, air-condition,refrigerator, minibar and spacious private balconies viewing the bright-blue waters of Ionion Sea.
Description - Location, Distances
South West of Messinia between Pilo-Kiparissia, is the picturesque fish-village Marathupolis, 15m from the beach is ARTINA hotel opposite of the enchanting bright green island Proti, that it is offered for one day excursions by fishing-boats, for swimming at the beautiful strand and fishing at the island.
Rates / Day / Room for the year 2015
All Rates in Euro ( € )
01.01.-15.06.
16.06.-15.09.
16.09.-31.12.
-
-
€
€

Breakfast: -

Lunch: -

Dinner: -

Children up to 4 years in the parents room for free
We cooperate with
Nahmobil
www.nahmobil.com
Nahmobil - the portal for travelling with public in Europe. Bus, train, ferries, flights, etc. and much more - sightseeing, places, etc).
The weather in Greece
Wetter online
Worldwide information about the weather all over the world with charts and maps.
Recommended links
Statistics
Users online: 86
Visits today: 1191
Hits today: 11788
Visits total: 4521389
Hits total: 122131260
Counting since: 2012-01-01