PHILIP HOTEL, Pylos, Messinia, Peloponnese
Categories
HOTELS - (3)
( Kalo Nero )
( Koroni )
( Pylos )
HOTELS (3)
( Marathoupoli )
( Methoni )
( Finikounda )
HOTELS (5)
( Methoni )
( Kyparissia )
( Methoni )
( Pylos )
( Stoupa )
AP.-HOTELS D () (2)
( Kalamata )
( Finikounda )
AP.-HOTELS B () (5)
( Kiparisia )
( Pylos )
( Kalo Nero, Kyparissia )
( Mani )
( Kalo Nero )
AP.-HOTELS A () (1)
( Kala Nera )
AP.-STUDIOS E (-) (2)
( Kardamili )
( Stoupa )
AP.-STUDIOS C () (1)
( Episkopi )
AP.-STUDIOS B () (3)
( Koroni )
( Methoni )
( Pilos )
AP.-STUDIOS A () (3)
( Gefiraki, Marathopoli )
( Kalo Nero, Kyparissia )
( Kalamaki )
BUNGALOWS E (-) (1)
( Marathopoli )
BUNGALOWS B () (1)
( Petalidi )
VILLAS B () (1)
( Finikounda )
Contact - Summer
PHILIP HOTEL

PYLOS
GR-24001 MESSINIA
Phone: +30 27230 22741, +30 27230 23562
Fax: +30 27230 23261
Mobile: -
Contact - Winter
PHILIP HOTEL
PYLOS
GR-24001 MESSINIA
Phone: +30 27230 22741, +30 27230 23562
Fax: +30 27230 22741
WITH SEAVIEW


Photos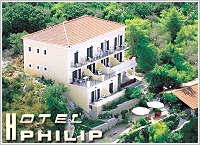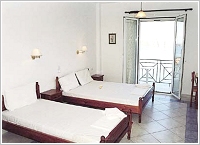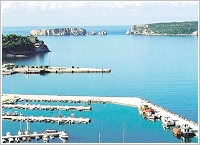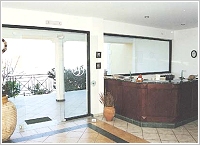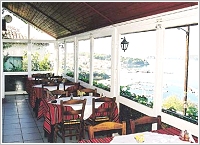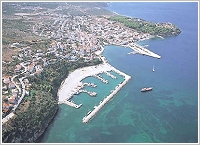 Description - Complex
Neoclassical, modern building at the entrance of Pilos with fantastic view towards the famous bay of Navarino. From the verandas at the first frieze, there is restaurant and bar with view and tastes that you will never forget.
Description - Rooms, Apartments
The apartments are comfortable, modern, provided with balconies with sea view. They also have equipped kitchen, air-condition, TV, refrigerator, WC-bathroom, and wooden furnishings.
Description - Location, Distances
One of the most well-known areas in Greece is Pilos, situated in the southwest end of Peloponissos. It is 50km from Kalamata where there is an airport, 200km from Patra. There are many possibilities for daily excursions to Olympia, temple of Epikuros Apollon, ancient Messini, Koroni, Methoni, Mistra, Messinian Mani, Diros Caves. Fantastic beaches where you can go is Voidokilia, Gold shore at the bay of Navarino.
Rates / Day / Room for the year 2015
All Rates in Euro ( € )
01.04.-31.05.
01.10.-31.10.
01.06.-30.06.
01.09.-30.09.
01.07.-31.08.
-
-
€
€

Breakfast: -

Lunch: -

Dinner: -
We cooperate with
Nahmobil
www.nahmobil.com
Nahmobil - the portal for travelling with public in Europe. Bus, train, ferries, flights, etc. and much more - sightseeing, places, etc).
The weather in Greece
Wetter online
Worldwide information about the weather all over the world with charts and maps.
Recommended links
Statistics
Users online: 64
Visits today: 413
Hits today: 3690
Visits total: 4664370
Hits total: 123391751
Counting since: 2012-01-01