AGNANTIO HOTEL, Sidirokastro, Kerkini, Seres, Macedonia
Categories
HOTELS - (1)
( A. Vrontou )
HOTELS (5)
( Sidirokastro, Kerkini )
( Angistro )
( Kerkini )
( Ano Poroia )
( Sidirokastro )
HOTELS (1)
( Kato Poroia )
AP.-HOTELS A () (1)
( Chrysochorafa )
AP.-STUDIOS E (-) (1)
( Nea Fyli, Amfipoli )
AP.-STUDIOS C () (1)
( Kerkini )
VILLAS E (-) (1)
( Angistro )
Contact - Summer
AGNANTIO
HOTEL
SIDIROKASTRO, KERKINI
GR-62300 SERES
Phone: +30 23230 28200
Fax: +30 23230 28201
Mobile: -
Contact - Winter
AGNANTIO
HOTEL
SIDIROKASTRO, KERKINI
GR-62300 SERES
Phone: +30 23230 28200
Fax: +30 23230 28200
Mobile: +30 6973 392850
| | |
| --- | --- |
| Category | * * * |
| Rooms | 20 |
| | 60 |
Website of this complex

www.agnantiohotel.gr
OPEN ALL YEAR ROUND
ATHLETIC CENTRE

Photos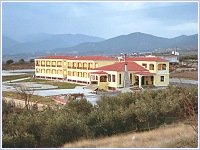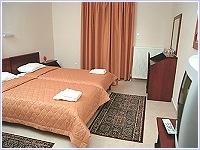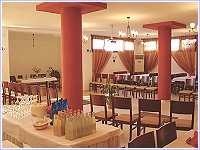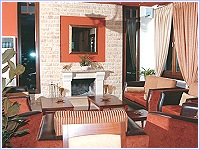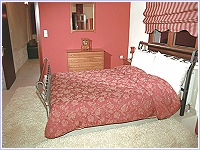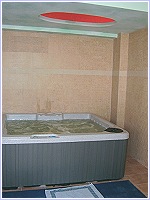 Description - Complex
The HOTEL AGNANTIO is a newly built hotel (2006), built on an area of 6,000m2 at beautiful Sidirokastro of Serres on the road between Sidirokastro and Achladochori. It consists of three independent two-storied buildings while in their underground there are gym, sauna, water massage and a hall for multiple purposes. It is ideal as an athletic centre.
Description - Rooms, Apartments
In the first of the buildings of the hotel there are the reception, the breakfast hall, a bar as well as lounge with a big Plasma television and a fireplace so that you enjoy your coffee or your drink. In the first floor there is a two-room suite which offers fireplace, water massage, television, air conditioning, bathroom and big balcony with splendid view. Each of the other two buildings consists of 10 comfortable rooms. Each room has bathroom, WC, hot water all day long, satellite television, air conditioning, individual heating, mini bar, hairdryer and slippers. In the garden that is located in front of the buildings there are swimming pool and playground.
Description - Location, Distances
Sidirokastro is located 20km away from the town of Serres, 16km from Kerkini, 30km from the Baths of Aggistro and 80km from Thessaloniki. The hotel is located very near the Commercial Centre of Aggistro and by the Healing Baths of Sidirokastro. In the region there are taverns, night clubs, bars and big market. It is an ideal place for you to discover the full of adventures paths, the gorge and the Waterfalls of the river Koursovitis, the Monastery of Saints Kirikos and Iouliti, the Medieval Castle Demir-Isar while at a distance of 15km there is the river Strimonas.
Rates / Day / Room for the year 2015
All Rates in Euro ( € )
LOW
HIGH
-
-
-
€
€
Suite
€

Breakfast: Included

Lunch: -

Dinner: -
We cooperate with
SPECIAL OFFERS
Book now online and save money!
Statistics
Users online: 52
Visits today: 1053
Hits today: 10333
Visits total: 4378526
Hits total: 120592796
Counting since: 2012-01-01

Special needs
Click here for a list with all hotels which provide also acommodation for people with special needs.
Pets allowed
Take your pet with you. Click here for a list with all hotels in Greece where pets are allowed.

Alternative Tourism
Extreme sports - all year long. Rafting, Kayak, Canyoning, Jeeping, Mountain Bike, Paintball, Archery, Trecking ...
Nahmobil
www.nahmobil.com
Nahmobil - the portal for travelling with public in Europe. Bus, train, ferries, flights, etc. and much more - sightseeing, places, etc).
The weather in Greece
Wetter online
Worldwide information about the weather all over the world with charts and maps.
Recommended links