COSTA-RINI HOTEL KOSTARINI ROOMS, Leonidio, Arkadia, Peloponnese
Categories
HOTELS - (3)
( Dimitsana )
( Karytaina )
( Dimitsana )
HOTELS (3)
( Dimitsana )
( Tripolis )
( Vytina )
HOTELS (1)
( Agios Petros, Kinuria )
AP.-HOTELS B () (5)
( Pulithra, Kinouria )
( Levidi )
( Levidi )
( Dimitsana )
( Astros, Kinuria )
AP.-HOTELS A () (5)
( Vitina )
( Leonidio )
( Levidi )
( Kosmas )
( Vitina )
AP.-STUDIOS E (-) (1)
( Valtesiniko )
AP.-STUDIOS C () (3)
( Leonidio )
( Kosmas )
( Sampatiki, Kinuria )
AP.-STUDIOS B () (4)
( Xiropigado )
( Paralio Astros )
( Paralio Astros )
( Astros )
AP.-STUDIOS A () (4)
( Paralio Astros )
( Xiropigado )
( Vitina )
( Agios Petros, Kinouria )
AP.-STUDIOS L () (1)
( Ano Kardaras )
BUNGALOWS A () (1)
( Leonidio )
VILLAS A () (3)
( Paralio Astros )
( Kosmas )
( Levidi )
Contact - Summer
COSTA-RINI HOTEL
KOSTARINI ROOMS
LEONIDIO
GR-22300 ARKADIA
Phone: +30 27570 22273, +30 27570 22879
Fax: +30 27570 22100
Mobile: +30 6973079417
Contact - Winter
COSTA-RINI HOTEL
KOSTARINI ROOMS
LEONIDIO
GR-22300 ARKADIA
Phone: +30 27570 22273, +30 27570 22879
Fax: +30 27570 22273
| | |
| --- | --- |
| Category | C (**) |
| Rooms | 20 |
| | 61 |
Email: -
MHTE: -
OPEN ALL YEAR ROUND


Photos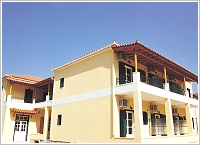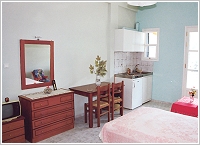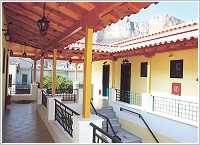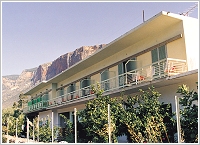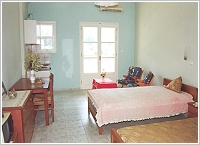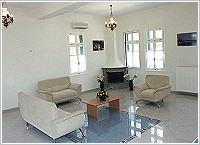 Description - Complex
The hotel of furnished apartments COSTA-RINI and the rented rooms KOSTARINIS Stilianos K. Tsoukatos ownership, are situated in the same area, at the entrance of Leonidio, for those who are coming from Athens and they are composed of two independent buildings, built around a big and planted all over with lemon-trees, mulberry-trees, and many kinds of flowers yard, ideal for relaxation, reading, breakfast and for little children.
In a traditional, two-floor building which was constructed in 2001 by EOT specifications, with modern materials and respect to the natural environment and the architecture of the settlement, there is the hotel of 10 furnished apartments COSTA-RINI, with spacious place for parking.
The unit is provided with reception, living-room with fireplace, TV and breakfast-lounge, spacious personal areas, heat and sound insulation, beautiful view towards the sea, the planted all over olive plantation and the impressive red rocks of Leonidio. In a separate building there are 10 spacious Rented rooms KOSTARINI, all of them with big verandas spacious parking-lot, and view. They are also provided with hotel service .Running two different units at the same place, composes our exclusiveness and provides to our visitor a total of suggestions and solutions that can cover a big spectrum of demands.
Description - Rooms, Apartments
The COSTA-RINI hotel is composed of 10 furnished apartments provided with all modern conveniences such as: telephone exchange with extensions in each room and possibility autonomous use, bathroom with hot water all day long, veranda which views to the bright-green plain and the impressive rocks of Leonidio, central heating, air-condition, kitchenette with two hotplates and refrigerator, dinner table with two chairs, two bedside tables, dressing-table, spacious wardrobe and focusing utensils.
The second unit provides to each one of the 10 rented rooms, separate bathroom, hot water all day long, central heating, air-condition, refrigerator, bedside tables, dressing-table, a big wardrobe, and veranda with impressive view.
Description - Location, Distances
At the entrance of the historical and traditional city of Leonidion, on the central road and at distance 3km from the sea, is situated our hotel unit ready to welcome and the most demanding customer as well as to offer comfortable vacations in a friendly, family and civilised environment, out of respect to the visitor, with our daily concern cleanliness as well as the supply of modern services. Leonidio is 210km from Athens, 80km from Tripoli and 85km from Sparti. To reach someone Leonidio by car, is enough to follow the high way Athens-Korinthos, afterwards drive to Korinthos-Tripoli and when he comes to the end of it, at the exit Sterna, to follow the direction towards Argos-Astros-Leonidio. Also one can come from Sparti via Kosma after crossing Parnona. For those that prefer the sea transports , they can reach Leonidio by hydropterigo, that starts from Zeas marine of Piraeus or to embark in an intermediary port, such as Egina, Poros, Spetses, Porto Cheli, Tiru, Monemvasia or Kiparissi. The area offers generously to the visitor, many and clean shingle beaches for endless hours of swimming, ideal conditions for relaxation, many chances to enjoy the extraordinary landscape that create the craggy red rocks, the bright green plain and the coastlines in combination with the traditional character of the built-up area, with its many impressive tower-houses rare signs of traditional architecture. The picturesque port of Leonidio Plaka offers, in harmonious combination, possibility for swimming, good and fresh fish, ideal circumstances for walk, coffee and night entertainment.
Also there are chances to visit one of the most beautiful mountainous villages, such as Kosmas 32km, Paleochori 10km, Platanaki 20km, Ag. Vasilios 25km, Tsitalia 10km, Peleta 22km, Pigadi, Kounoupia, Mari, Kremasti, Prastos 60km and Kastanitsa 60km, in combination with the wandering at the many beauties of the bright green Parnona, or the gastronomic pursuit at the many taverns that offer delicious local products. The knot place that we are situated has the possibility of daily excursions in places such as Pulithra 7km, Tiros 19km, Fokianos 28km, the historical Astros 49km, with the surrounding mountainous villages, Monemvasia 120km, Kiparissi 100km, that can be a motive for pilgrimage at the many and famous monasteries such as Panagia Elonis 16km, Ag. Nikolaos of Sintza 5km, Ag. Nikolaos of Karias 60km, Panagia Eortakusti 50km, Palaiopanagia 50km and the Iera Moni Lukus 50km and Panagia of Malevis 65km.
Only in Leonidio is fulfilled every Easter the original and unique custom of the throwing of balloon, a religious and cultural event, that is pulling in large audiences. Multi-coloured balloons are released the time of the Easter service simultaneously from five parishes of the city, and create a unique scene, since they are flying for a long time at the sky and they light up the rocks with striking way, giving the sense of uncountable stars that have come down over Leonidio. In the end would be a omission if our visitor is not going to taste our local products, first of all the only Tsakoniki aubergine Leonidiu.
Rates / Day / Stud/Apartm for the year 2015
All Rates in Euro ( € )
01.01.-31.12.
-
-
-
-
(Apartm)
€
(Stud.)
€

Breakfast: -

Lunch: -

Dinner: -

20% discount on one-bed-room

Own taxi for transfer of our guests
We cooperate with