DIMITSANA HOTEL, Dimitsana, Arkadia, Peloponnese
Categories
HOTELS - (3)
( Dimitsana )
( Karytaina )
( Dimitsana )
HOTELS (3)
( Dimitsana )
( Tripolis )
( Vytina )
HOTELS (1)
( Agios Petros, Kinuria )
AP.-HOTELS B () (5)
( Pulithra, Kinouria )
( Levidi )
( Levidi )
( Dimitsana )
( Astros, Kinuria )
AP.-HOTELS A () (5)
( Vitina )
( Leonidio )
( Levidi )
( Kosmas )
( Vitina )
AP.-STUDIOS E (-) (1)
( Valtesiniko )
AP.-STUDIOS C () (3)
( Leonidio )
( Kosmas )
( Sampatiki, Kinuria )
AP.-STUDIOS B () (4)
( Xiropigado )
( Paralio Astros )
( Paralio Astros )
( Astros )
AP.-STUDIOS A () (4)
( Paralio Astros )
( Xiropigado )
( Vitina )
( Agios Petros, Kinouria )
AP.-STUDIOS L () (1)
( Ano Kardaras )
BUNGALOWS A () (1)
( Leonidio )
VILLAS A () (3)
( Paralio Astros )
( Kosmas )
( Levidi )
Contact - Summer
DIMITSANA
HOTEL
DIMITSANA
GR-22007 ARKADIA PELOPONNISOS
Phone: +30 27950 31518, +30 27950 31519
Fax: +30 27950 31040
Mobile: -
Contact - Winter
DIMITSANA HOTEL
DIMITSANA
GR-22007 ARKADIA PELOPONNISOS
Phone: +30 27950 31518, +30 27950 31519
Fax: +30 27950 31518
| | |
| --- | --- |
| Category | * * * |
| Rooms | 30 |
| | 60 |
Website of this complex

www.dimitsanahotel.gr
OPEN ALL YEAR ROUND


Photos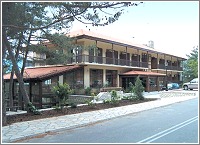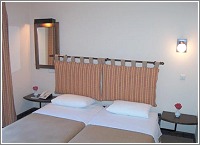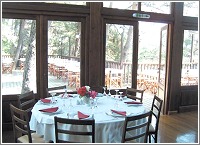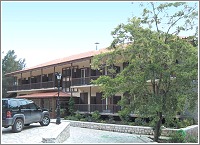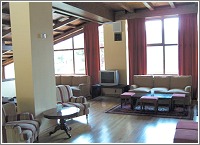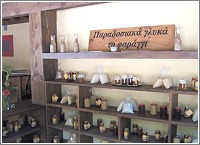 Description - Complex
Between a piny corner of the aristocratic Dimitsana, comes into view a sunny hotel, with the wooden, traditional types of verandas, its imposing entrance and the elaborate veranda in the pine-tree forest made for magic, summer nights under the moonlight, but also traditional stone walls that complete that complete the spotless architecture of the building. In the hotel there is a kiosk where you can buy traditional sweets, made of pure local products and with the good taste of the hostess that follows faithfully the receipts of the area.
Description - Rooms, Apartments
The fully renovated rooms of the hotel, with the marble bathrooms, the carpeted floors, the modern furniture, provide 24 hours a day heating, and they offer hospitality of high requirements. The hotel's restaurant with its panoramic view, the impressive furnishing and the modern distinctive lighting, offer under the sounds of soft music and an excellent quality kitchen and a rich, variable cellar, with preference in the local red wine. A pleasant surprise comes from the home-made sweets that are offered to complete your meal, while the most important service in the hotel is its abundant breakfast. Also its spotless stuff, offer excellent service, with respect to the visitor.
Description - Location, Distances
The hotel is situated in Arkadia of Peloponnisos, 200km from Athina and 60km from Tripoli.
There is the possibility, of alternative kinds of tourism such as rafting, mountain bike, 4x4 routes, walking in special paths e.t.c.
Rates / Day / Room for the year 2015
All Rates in Euro ( € )
01.06.-30.09.
01.01.-31.05.
01.10.-31.12.
-
-
€
€
+
€

Breakfast: -

Lunch: -

Dinner: -
We cooperate with