MALEVOS TRADITIONAL HOUSES, Agios Petros, Kinouria, Arkadia, Peloponnese
Categories
HOTELS - (3)
( Dimitsana )
( Karytaina )
( Dimitsana )
HOTELS (3)
( Dimitsana )
( Tripolis )
( Vytina )
HOTELS (1)
( Agios Petros, Kinuria )
AP.-HOTELS B () (5)
( Pulithra, Kinouria )
( Levidi )
( Levidi )
( Dimitsana )
( Astros, Kinuria )
AP.-HOTELS A () (5)
( Vitina )
( Leonidio )
( Levidi )
( Kosmas )
( Vitina )
AP.-STUDIOS E (-) (1)
( Valtesiniko )
AP.-STUDIOS C () (3)
( Leonidio )
( Kosmas )
( Sampatiki, Kinuria )
AP.-STUDIOS B () (4)
( Xiropigado )
( Paralio Astros )
( Paralio Astros )
( Astros )
AP.-STUDIOS A () (4)
( Paralio Astros )
( Xiropigado )
( Vitina )
( Agios Petros, Kinouria )
AP.-STUDIOS L () (1)
( Ano Kardaras )
BUNGALOWS A () (1)
( Leonidio )
VILLAS A () (3)
( Paralio Astros )
( Kosmas )
( Levidi )
Contact - Summer
MALEVOS
TRADITIONAL HOUSES
AGIOS PETROS KINURIA
GR-22100 ARKADIA
Phone: +30 27920 31155, +30 27920 31375
Fax: +30 27920 31286
Mobile: +30 6945377328
Contact - Winter
MALEVOS
TRADITIONAL HOUSES
AGIOS PETROS KINURIA
GR-22100 ARKADIA
Phone: +30 27920 31155, +30 27920 31375
Fax: +30 27920 31155
Mobile: +30 6945377328
| | |
| --- | --- |
| Category | A (****) |
| Rooms | 4 |
| | 20 |
Email: -
MHTE: -
OPEN ALL YEAR ROUND


Photos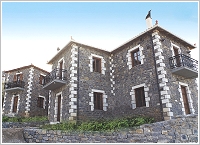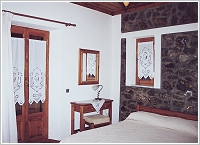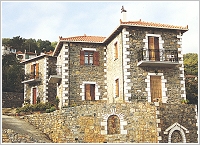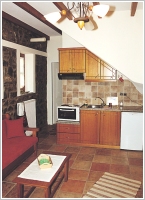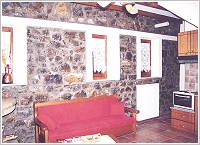 Description - Complex
MALEVOS is a new group, made of stone and wood, in the middle of a garden. It is composed of 4 independent houses, that can accommodate 2-6 persons each one of them. It gives to the visitor the availability for sightseeing, climbing, sports, hunter, refreshment e.c.t. There is also parking-lot.
Description - Rooms, Apartments
Each house has its own fireplace, autonomous heating in each room, plentiful hot water, fully equipped kitchen, TV, two bathrooms/WC, heating, refrigerator, room service, as well as traditional furniture. They are open all the year round.
Description - Location, Distances
At the Agios Petros of Arcadia 2hours from Athens is the traditional group MALEVOS. The close distances from the beach Astros (30km), from Moni Malevis(8km), the Parnonas area (4km), make the group look ideal for vacations. Possibility for touring, climbing, mountain bike e.c.t.
Rates / Day / House for the year 2015
All Rates in Euro ( € )
01.01.-31.12.
-
-
-
-
€

Breakfast: -

Lunch: -

Dinner: -

Rates depend on number of person and season
We cooperate with