EFROSINI STUDIOS, Xiropigado, Arkadia, Peloponnese
Categories
HOTELS - (3)
( Dimitsana )
( Karytaina )
( Dimitsana )
HOTELS (3)
( Dimitsana )
( Tripolis )
( Vytina )
HOTELS (1)
( Agios Petros, Kinuria )
AP.-HOTELS B () (5)
( Pulithra, Kinouria )
( Levidi )
( Levidi )
( Dimitsana )
( Astros, Kinuria )
AP.-HOTELS A () (5)
( Vitina )
( Leonidio )
( Levidi )
( Kosmas )
( Vitina )
AP.-STUDIOS E (-) (1)
( Valtesiniko )
AP.-STUDIOS C () (3)
( Leonidio )
( Kosmas )
( Sampatiki, Kinuria )
AP.-STUDIOS B () (4)
( Xiropigado )
( Paralio Astros )
( Paralio Astros )
( Astros )
AP.-STUDIOS A () (4)
( Paralio Astros )
( Xiropigado )
( Vitina )
( Agios Petros, Kinouria )
AP.-STUDIOS L () (1)
( Ano Kardaras )
BUNGALOWS A () (1)
( Leonidio )
VILLAS A () (3)
( Paralio Astros )
( Kosmas )
( Levidi )
Contact - Summer
EFROSINI
STUDIOS
XIROPIGADO KINURIA
GR-22001 ASTROS ARKADIA
Phone: +30 27550 71367
Fax: +30 27550 71367
Mobile: -
Contact - Winter
EFROSINI STUDIOS
XIROPIGADO KINURIA
GR-22001 ASTROS ARKADIA
Phone: +30 27550 71367
Fax: +30 27550 71367
| | |
| --- | --- |
| Category | A (****) |
| Rooms | 6 |
| | 21 |
Email: -
MHTE: -
15% DISCOUNT FOR INERNET GUESTS


Photos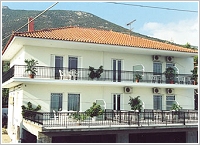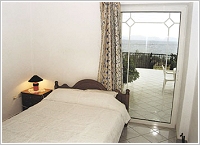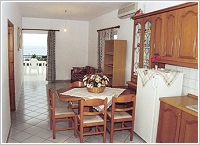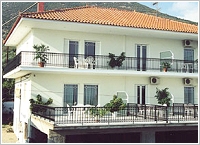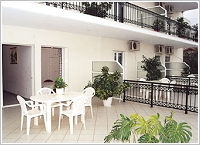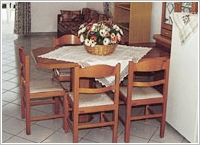 Description - Complex
New two floor building of 6 apartments, 5 of which are 30qm and the sixth is 65qm, with huge verandas 30qm. They are provided with TV, air-condition, a fully equipped kitchen, bathroom/WC, refrigerator. The kitchen is a separate room. The group also has its own parking-lot.
Description - Rooms, Apartments
The five of the six apartments are 30qm and each one of its verandas also is 30qm with their living-room, Wooden furnishing in the rooms with TV, air-condition, refrigerator, a fully equipped kitchen, separate bathroom/WC and they are only 40m from the beach. All of the rooms are viewing the mountain or the sea. The sixth apartment is 65qm with private veranda of 30qm with its living-room, two bedrooms, TV, air-condition, refrigerator and a fully equipped kitchen. There is wooden dinner table and furnishing.
Description - Location, Distances
Xiropigado is 150km from Athina, 10km from Astros and 20km from Argos and Nafplio. It is situated at the bay Argolikos. There is availability of daily excursions at Tolo, Epidavro, Mikines, Portocheli and Monemvasia.
Rates / Day / Stud/Apartm for the year 2015
All Rates in Euro ( € )
01.05.-31.05.
01.10.-31.10.
01.06.-30.06.
01.09.-30.09.
01.07.-31.08.
-
-
€
€
€

Breakfast: -

Lunch: -

Dinner: -

Children up to 6 years in the parents room for free
We cooperate with
Nahmobil
www.nahmobil.com
Nahmobil - the portal for travelling with public in Europe. Bus, train, ferries, flights, etc. and much more - sightseeing, places, etc).
The weather in Greece
Wetter online
Worldwide information about the weather all over the world with charts and maps.
Recommended links
Statistics
Users online: 68
Visits today: 331
Hits today: 2418
Visits total: 5473510
Hits total: 131246276
Counting since: 2012-01-01