CHALET ELATI, Vitina, Arkadia, Peloponnese
Categories
HOTELS - (3)
( Dimitsana )
( Karytaina )
( Dimitsana )
HOTELS (3)
( Dimitsana )
( Tripolis )
( Vytina )
HOTELS (1)
( Agios Petros, Kinuria )
AP.-HOTELS B () (5)
( Pulithra, Kinouria )
( Levidi )
( Levidi )
( Dimitsana )
( Astros, Kinuria )
AP.-HOTELS A () (5)
( Vitina )
( Leonidio )
( Levidi )
( Kosmas )
( Vitina )
AP.-STUDIOS E (-) (1)
( Valtesiniko )
AP.-STUDIOS C () (3)
( Leonidio )
( Kosmas )
( Sampatiki, Kinuria )
AP.-STUDIOS B () (4)
( Xiropigado )
( Paralio Astros )
( Paralio Astros )
( Astros )
AP.-STUDIOS A () (4)
( Paralio Astros )
( Xiropigado )
( Vitina )
( Agios Petros, Kinouria )
AP.-STUDIOS L () (1)
( Ano Kardaras )
BUNGALOWS A () (1)
( Leonidio )
VILLAS A () (3)
( Paralio Astros )
( Kosmas )
( Levidi )
Contact - Summer
CHALET ELATI

ELATI VITINA
GR-22010 ARKADIA
Phone: +30 27950 22900, +30 2103326811
Fax: +30 210 3305127
Mobile: +30 6947379401
Contact - Winter
PAPAVASILEIOU M.
CHALET ELATI
AKADIMIAS STR. 85
GR- ATHINA
Phone: +30 2103326811
Fax: +30 2103326811
| | |
| --- | --- |
| Category | A (****) |
| Rooms | 20 |
| | 80 |
LAT.
37.6281
LON.
22.15325
Website of this complex

www.sale-elati.gr
OPEN ALL YEAR ROUND


Photos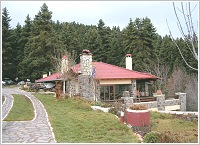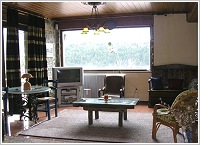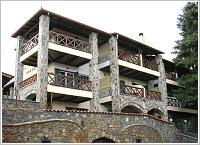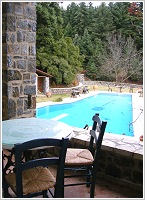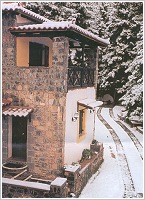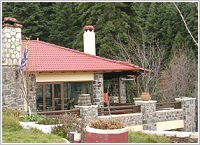 Description - Complex
The CHALETS ELATI are located in the most beautiful fir-wood of Greece, in the region of Mainalo, in Elati, Arkadia. The complex consists of 20 very beautiful, fully equipped chalets, with all the comforts that make your vacation relaxing. They are provided with very big swimming pool, bar by the swimming pool, television hall and lounge. There is the possibility of sending and receiving emails and faxes as well as the possibility of renting bicycles for rides in the most beautiful fir-wood.
Description - Rooms, Apartments
The 20 chalets are provided with exclusive balconies with a view of the mountain, individual heating, refrigerator, satellite television, telephone for direct calls, anatomical mattresses, hair-dryer, music and radio.
Description - Location, Distances
The region of Mainalo is of historical importance because it had the sublime honour to offer to our homeland, in the great beginning of the liberating struggle, the general Theodoros Kolokotronis, who was the first among the first. The CHALETS ELATI are located 7km away from Vitina, while, in a distance of roughly 4km from Vitina, there is a junction with arrows that point left to Elati (3km), following the ancient river Milaontas. The route continues from Elati to the centre of Mainalo. 2km away from Elati, there is the headspring "Palaiohori", in an astonishing place of green, where a magnificent church comes into view, the one of "Zoodohou Pigis". They are 193km away from Athens, 41km from Tripoli, 20km from Vitina, 155km from Patra and 132km from Kalamata.
Rates / Day / Room for the year 2015
All Rates in Euro ( € )
Monday
Tuesday
Weekend
Holidays
-
-
-
Chalet
€

Breakfast: -

Lunch: -

Dinner: -
We cooperate with