MENALIA VILLAS & SUITES, Levidi, Arkadia, Peloponnese
Categories
HOTELS - (3)
( Dimitsana )
( Karytaina )
( Dimitsana )
HOTELS (3)
( Dimitsana )
( Tripolis )
( Vytina )
HOTELS (1)
( Agios Petros, Kinuria )
AP.-HOTELS B () (5)
( Pulithra, Kinouria )
( Levidi )
( Levidi )
( Dimitsana )
( Astros, Kinuria )
AP.-HOTELS A () (5)
( Vitina )
( Leonidio )
( Levidi )
( Kosmas )
( Vitina )
AP.-STUDIOS E (-) (1)
( Valtesiniko )
AP.-STUDIOS C () (3)
( Leonidio )
( Kosmas )
( Sampatiki, Kinuria )
AP.-STUDIOS B () (4)
( Xiropigado )
( Paralio Astros )
( Paralio Astros )
( Astros )
AP.-STUDIOS A () (4)
( Paralio Astros )
( Xiropigado )
( Vitina )
( Agios Petros, Kinouria )
AP.-STUDIOS L () (1)
( Ano Kardaras )
BUNGALOWS A () (1)
( Leonidio )
VILLAS A () (3)
( Paralio Astros )
( Kosmas )
( Levidi )
Contact - Summer
MENALIA
VILLAS & SUITES
LEVIDI
GR-22002 ARKADIA
Phone: +30 27960 29028, +30 27960 29029
Fax: +30 27960 29036
Mobile: -
Contact - Winter
MENALIA
VILLAS & SUITES
LEVIDI
GR-22002 ARKADIA
Phone: +30 27960 29028, +30 27960 29029
Fax: +30 27960 29028
| | |
| --- | --- |
| Category | A (****) |
| Rooms | 6 |
| | 20 |
Website of this complex

www.menalia.gr
OPEN ALL YEAR ROUND


Photos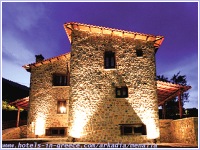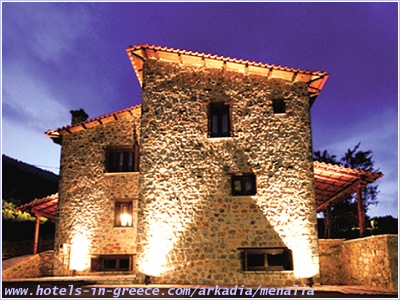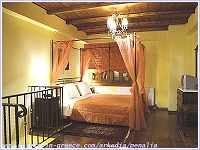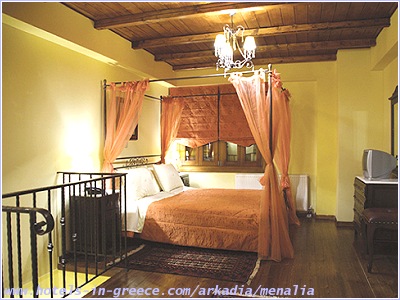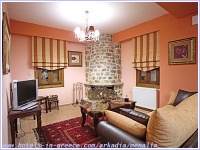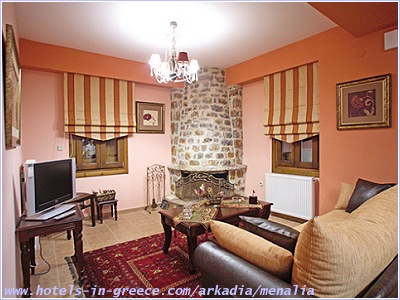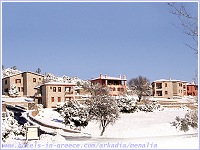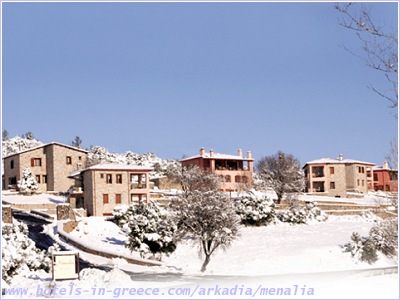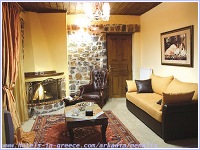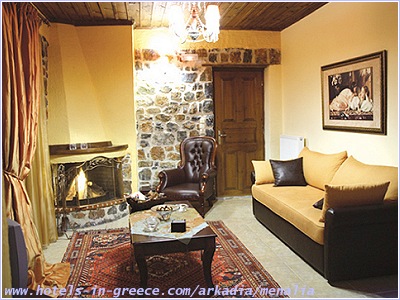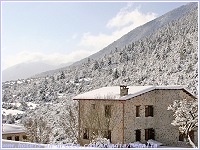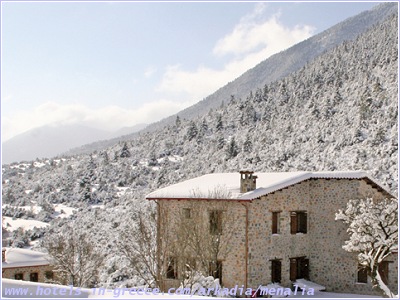 Description - Complex
In the magic nature of Arcadia, at the foot of mountain Mainalo, among the firs and the peacefulness of the forest, at the edge of Levidi, there is the luxurious stone complex MENALIA VILLAS & SUITES, a high class tourist unit, an ideal destination for all travellers. The six residences that constitute the complex bear the names of nymphs of Menalo that lived on it according to the legend. The earthy and pastel colours that dominate, the romanticism that the various objects and furniture bring out, the classic luxury, contribute to the creation of a calm and relaxing atmosphere for the visitors. MENALIA VILLAS & SUITES provides high class hospitality, with good wine and fresh fruits that wait for the visitors as a welcoming sign in the guesthouse that they selected. The 24 hours service and the all modern means of comfort, communication and services complete the picture of an ideal stay.
Description - Rooms, Apartments
The guesthouses offer independent verandas, individual heating, fireplace, fully equipped kitchen, mini bar, television, telephone, baby cot and private parking lot.
Description - Location, Distances
The region is an ideal travel destination for the friends of sports but also for the ones who like historical monuments and art. In a short distance from MAINALIA, the ski resort of Mainalo offers joy, challenges and all the services to the lovers of winter sports. For the visitors who enjoy good food, Levidi is famous for its good taverns that serve traditional delicacies and local dishes. There are also many choices for buying pure and traditional food products, like honey of Mainalo, local wines, herbs, country bread, traditional noodles and pasta.
Rates / Day / Room for the year 2015
All Rates in Euro ( € )
01.01.-31.12.
-
-
-
-
€

Breakfast: -

Lunch: -

Dinner: -
We cooperate with