HATZIPANAYIOTIS HOTEL, Leonidio, Arkadia, Peloponnese
Categories
HOTELS - (3)
( Dimitsana )
( Karytaina )
( Dimitsana )
HOTELS (3)
( Dimitsana )
( Tripolis )
( Vytina )
HOTELS (1)
( Agios Petros, Kinuria )
AP.-HOTELS B () (5)
( Pulithra, Kinouria )
( Levidi )
( Levidi )
( Dimitsana )
( Astros, Kinuria )
AP.-HOTELS A () (5)
( Vitina )
( Leonidio )
( Levidi )
( Kosmas )
( Vitina )
AP.-STUDIOS E (-) (1)
( Valtesiniko )
AP.-STUDIOS C () (3)
( Leonidio )
( Kosmas )
( Sampatiki, Kinuria )
AP.-STUDIOS B () (4)
( Xiropigado )
( Paralio Astros )
( Paralio Astros )
( Astros )
AP.-STUDIOS A () (4)
( Paralio Astros )
( Xiropigado )
( Vitina )
( Agios Petros, Kinouria )
AP.-STUDIOS L () (1)
( Ano Kardaras )
BUNGALOWS A () (1)
( Leonidio )
VILLAS A () (3)
( Paralio Astros )
( Kosmas )
( Levidi )
Contact - Summer
HATZIPANAYIOTIS
HOTEL
LEONIDIO
GR-22300 ARKADIA PELOPONNESE
Phone: +30 27570 22476, +30 27570 29037
Fax: +30 27570 23307
Mobile: -
Contact - Winter
HATZIPANAYIOTIS
HOTEL
LEONIDIO
GR-22300 ARKADIA PELOPONNESE
Phone: +30 27570 22476, +30 27570 29037
Fax: +30 27570 22476
| | |
| --- | --- |
| Category | A (****) |
| Rooms | 12 |
| | 24 |
Website of this complex

www.hatzipanayiotis.gr
Photos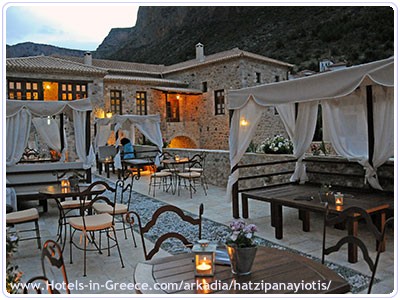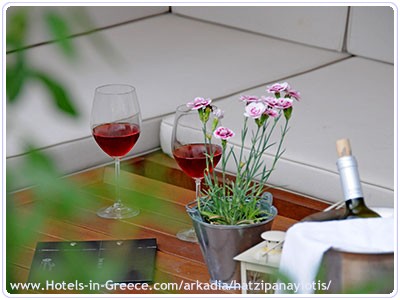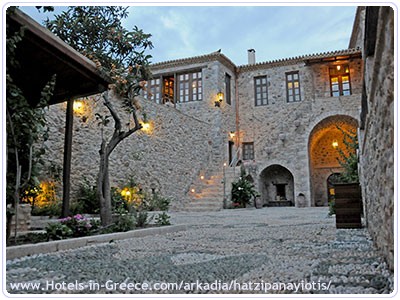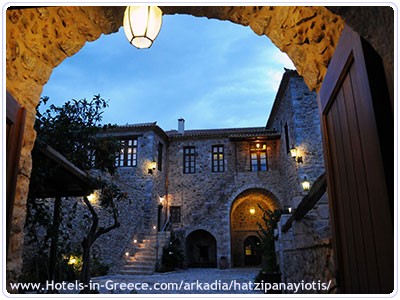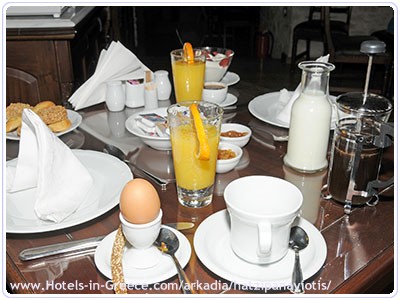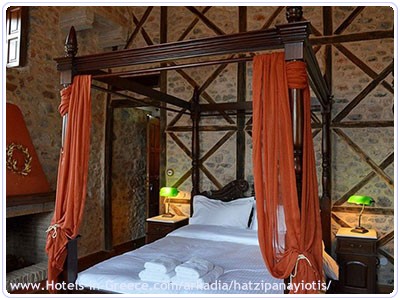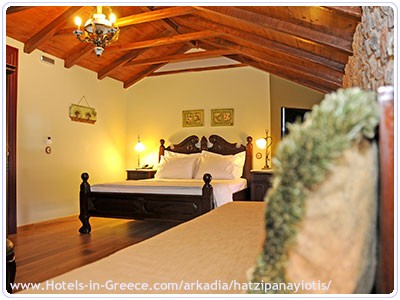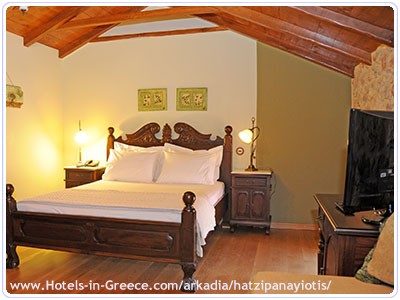 Description - Complex
Hatzipanayiotis' Mansion was affectionately renovated by craftsmen with enthusiasm and respect. It is surrounded by high stone walls which stress its authenticity and it stands as a fortress in the centre of Leonidio. From the entrance- a magnificent wooden door with stone dome-we can see the strictly rectangular shape of the mansion and the traditional wooden roof which was reconstructed with Byzantine type tiles. The pebble-paved yard is equally impressive and the garden is full of beautiful flowers such as gerania, honeysuckles, pansies, jasmines and frangipanis.

The ground floor and the first floor have independent entrances but they communicate externally with a stone staircase which is based on domes and arches of great magnificence. In that way we can observe the beautiful "chagiatia" (balconies), the elaborate chimneys, the lintels of the windows with the stone arcs and the stone coves.

The seamlessly constructed inner spaces, the painted ceiling and the wonderful, spiral, wooden staircases-which reminiscent more of jewelry than of architectural structures- create an intimate atmosphere and transport visitors in a romantic period.


Description - Rooms, Apartments
The triple rooms of the Mansion combine simple luxury with modern comfort. They are equipped with Coco-Mat mattresses and Guy Laroche linen for an enjoyable and relaxing sleep while in their deluxe baths guests will find cosmetics from the known brandApivita.

- Air-conditioning
- Room service
- Mini-Bar
- Safe
- TV (12 + 4 SAT)
- Internet
- Fireplace (not for all)


Description - Location, Distances
Leonidio is situated at the south-eastern of the Peloponnese, in the county of Arcadia. The capital of Tsakonia is immersed in the shade of the imposing rocks of Parnonas and surrounded by the enchanting natural scenery of the lash valley and the endless blue of the Argolic Gulf. The inhabitants in the area still speak a special local dialect which is called "Tsakonika" and it comes from the ancient Doric language.

In the centre of this traditional settlement with the unique colors and the incredible picturesqueness , we have created Hatzipanayiotis' Mansion. It stands as a sample of the local architecture.

Distances
- From Athens: 193km – 3 hours
- From Nafplio: 80Km – 1 hour
- From Tripoli: 95Km – 1 hour 15 min
- From Monemvasia: 90Km – 1 hour 45 minutes
- From Plaka Leonidio (beach): 4Km – 5 minutes



Rates / Day / Room for the year 2015
All Rates in Euro ( € )
01.05.-31.05.
01.10.-31.10.
01.06.-30.06.
01.09.-30.09.
01.07.-31.08.
-
-
€

Breakfast: -

Lunch: -

Dinner: -
We cooperate with