FOUFAS HOUSES, Paralio Astros, Arkadia, Peloponnese
Categories
HOTELS - (3)
( Dimitsana )
( Karytaina )
( Dimitsana )
HOTELS (3)
( Dimitsana )
( Tripolis )
( Vytina )
HOTELS (1)
( Agios Petros, Kinuria )
AP.-HOTELS B () (5)
( Pulithra, Kinouria )
( Levidi )
( Levidi )
( Dimitsana )
( Astros, Kinuria )
AP.-HOTELS A () (5)
( Vitina )
( Leonidio )
( Levidi )
( Kosmas )
( Vitina )
AP.-STUDIOS E (-) (1)
( Valtesiniko )
AP.-STUDIOS C () (3)
( Leonidio )
( Kosmas )
( Sampatiki, Kinuria )
AP.-STUDIOS B () (4)
( Xiropigado )
( Paralio Astros )
( Paralio Astros )
( Astros )
AP.-STUDIOS A () (4)
( Paralio Astros )
( Xiropigado )
( Vitina )
( Agios Petros, Kinouria )
AP.-STUDIOS L () (1)
( Ano Kardaras )
BUNGALOWS A () (1)
( Leonidio )
VILLAS A () (3)
( Paralio Astros )
( Kosmas )
( Levidi )
Contact - Summer
FOUFAS HOUSES

PARALIO ASTROS
GR-22019 ASTROS ARKADIA
Phone: +30 27550 51898
Fax:
Mobile: +30 6978 183523
Contact - Winter
FOUFAS HOUSES
PARALIO ASTROS
GR-22019 ASTROS ARKADIA
Phone: +30 27550 51898
Fax: +30 27550 51898
Mobile: +30 6978 183523
| | |
| --- | --- |
| Category | A (****) |
| Rooms | 5 |
| | 20 |
Website of this complex

www.foufas-houses.gr
OPEN ALL YEAR ROUND


Photos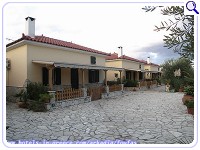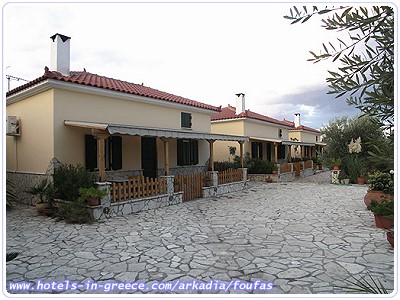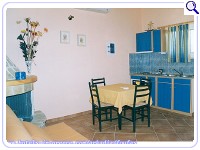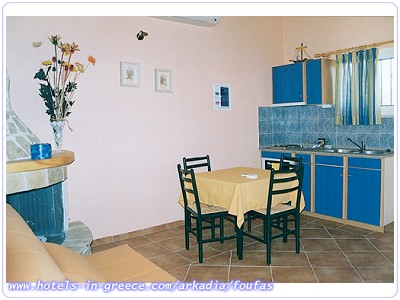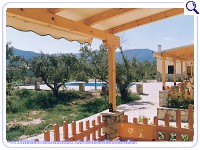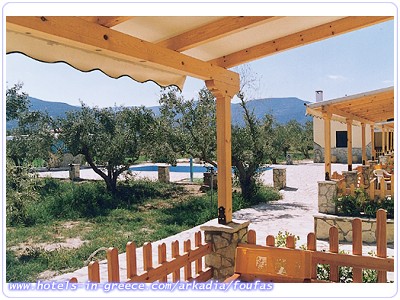 Description - Complex
In an area of 4.500m2 we have created 5 independent residences. Each one of them has big veranda (14m2) with pergola and also porch-furnishings. The complex is equipped with a parking lot, a swimming pool, in a distance of just 7m from the residences, as well as a most beautiful garden with olive trees. It is located just 150m away from the splendid beach of Astros.
Description - Rooms, Apartments
Each residence is 40m2, sunny and well-ventilated. It is provided with furnished living room with sofa bed (for 2 person), bathroom and fireplace. It is also provided with big kitchen with big refrigerator-freezer and small oven, electric washing machine, hair-dryer, hot water all day long, air-conditioning, television and Internet line.
Description - Location, Distances
The complex is located 3km away from the centre of the village, 45km from Tripoli, 35km from Nafplio, 40km from Mycenae and 100km from Monemvasia. It is 25km away from the mountain villages of Parnonas, 35km from Ayios Petros, 40km from Kastanitsa, 200km from Patra and, finally, 170km from Athens. For your summer bathes in the beach, apart from the most beautiful beach of Astros, which is very near, you can also visit the beach Alavarou that is located in a distance of 3km, the beach Kryoneriou in a distance of 20km, the beach Athigano in a distance of 1km and the beach Ververon in a distance of 2km. The area offers itself for windsurfing and hunting of thrushes and turtledoves.
Rates / Day / House for the year 2015
All Rates in Euro ( € )
01.05.-31.05.
01.10.-31.10.
01.06.-30.06.
01.09.-30.09.
01.07.-31.08.
-
-
€

Breakfast: -

Lunch: -

Dinner: -
We cooperate with