KALLISTO HOTEL & SUITES, Levidi, Arkadia, Peloponnese
Categories
HOTELS - (3)
( Dimitsana )
( Karytaina )
( Dimitsana )
HOTELS (3)
( Dimitsana )
( Tripolis )
( Vytina )
HOTELS (1)
( Agios Petros, Kinuria )
AP.-HOTELS B () (5)
( Pulithra, Kinouria )
( Levidi )
( Levidi )
( Dimitsana )
( Astros, Kinuria )
AP.-HOTELS A () (5)
( Vitina )
( Leonidio )
( Levidi )
( Kosmas )
( Vitina )
AP.-STUDIOS E (-) (1)
( Valtesiniko )
AP.-STUDIOS C () (3)
( Leonidio )
( Kosmas )
( Sampatiki, Kinuria )
AP.-STUDIOS B () (4)
( Xiropigado )
( Paralio Astros )
( Paralio Astros )
( Astros )
AP.-STUDIOS A () (4)
( Paralio Astros )
( Xiropigado )
( Vitina )
( Agios Petros, Kinouria )
AP.-STUDIOS L () (1)
( Ano Kardaras )
BUNGALOWS A () (1)
( Leonidio )
VILLAS A () (3)
( Paralio Astros )
( Kosmas )
( Levidi )
Contact - Summer
KALLISTO
HOTEL & SUITES
LEVIDI
GR-22002 ARCADIA PELOPONNESE
Phone: +30 27960 29019
Fax: +30 27960 29018
Mobile: +30 6977 201868
Contact - Winter
KALLISTO
HOTEL & SUITES
LEVIDI
GR-22002 ARCADIA PELOPONNESE
Phone: +30 27960 29019
Fax: +30 27960 29019
Mobile: +30 6977 201868
| | |
| --- | --- |
| Category | A (****) |
| Rooms | 14 |
| | 30 |
LAT.
37.6860
LON.
22.2986
Photos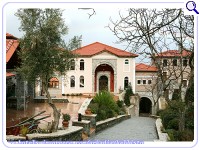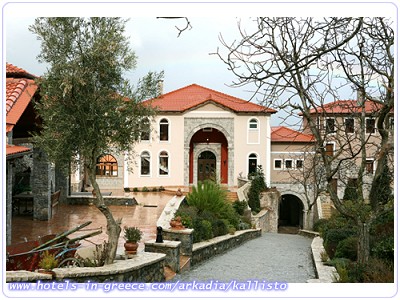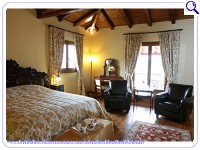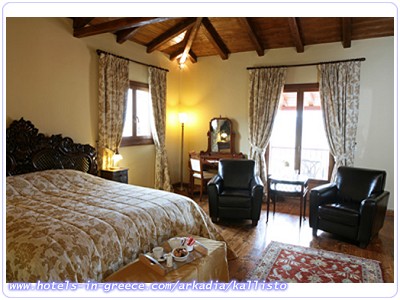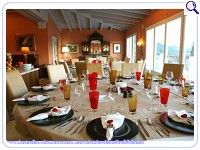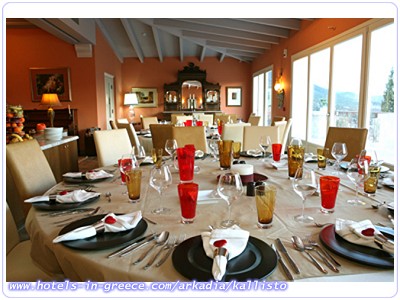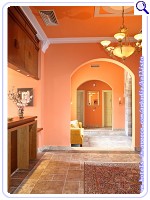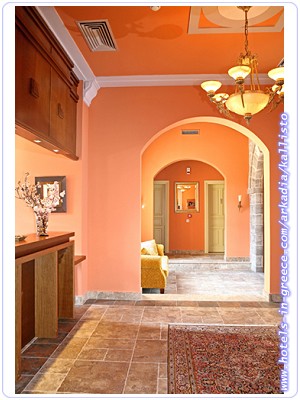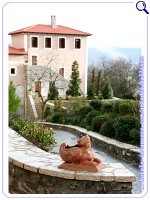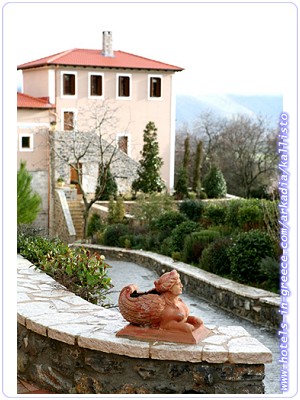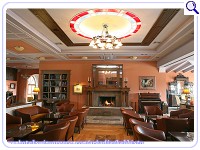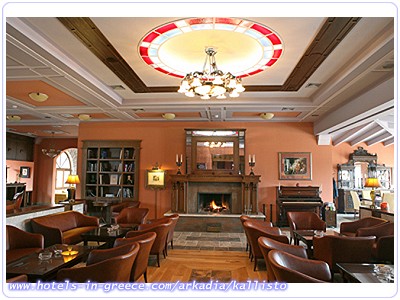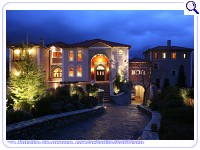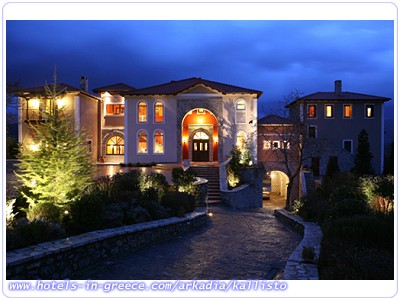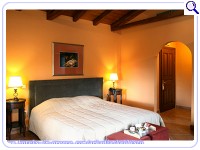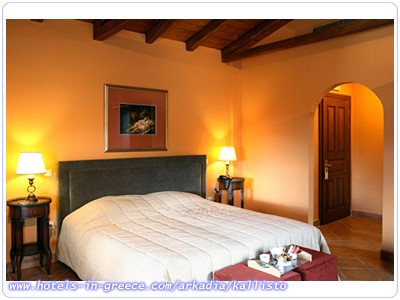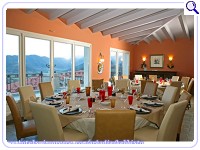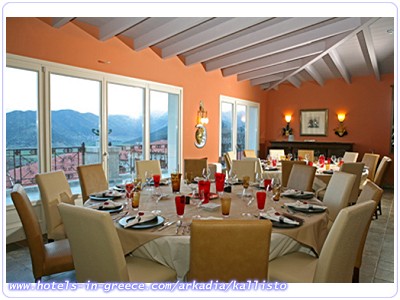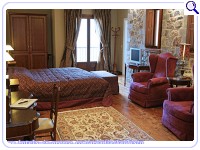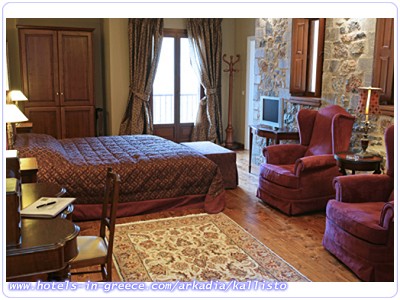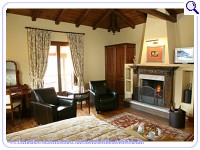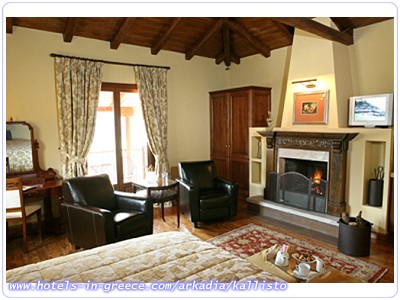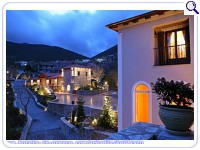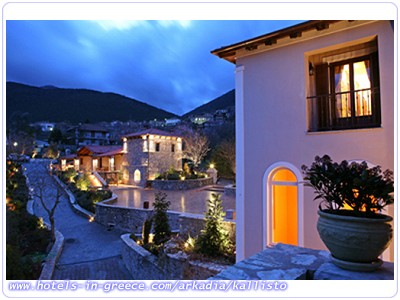 Description - Complex
The spaces of the guesthouse KALLISTO are a building complex together with the "Arcadian Museum of Art and History" of 1900m2, at the western edge of the complex Dryades. The rooms in the two wings are connected with the central building to form a dominant architectural structure. The place is accessible to people with special needs. The rooms have air-conditioning. During your stay at the guesthouse, each day begins with a rich breakfast, with traditional Arcadian products like fir honey, fruits, dry fruits, sheep's dairy etc. In the complex there are gym and saunas, exhibition areas, cafe - wine bar, projection room, library - reading room and big indoor and outdoor event areas. A space of high aesthetics with comfortable couches waits for you so that you can relax in front of the fireplace, after a day of intense action. Browse magazines, play table games and feel the warmth of the chocolate "Kallisto" that you can taste only here.
Description - Rooms, Apartments
The guesthouse has two two-room and twelve single-room suites. Each room of the guesthouse has its own aesthetics. Nymphs of the Arcadians like: Erato, Daphne, Antinoi, Diomeneia, Ippodameia, Neda, Fialo, Laonomi, Nonakris, Thelpousa, Sinoi, Anthrakeia, Agno, Anchiroi, Myrtoessa, Syrinx, Theisoa, Nomia, Inoi, Glafki, Idi, Frixa and Alkinoi, give their names to the suites and rooms.
In the rooms AGNO and NEDA the elegance meets the absolute hospitality. With genuine Victorian elements, visible roof, they have fireplace, small kitchen and shower in the bathroom. They are considered single-room suites with Queen Size bed and they can also accommodate a third person.
DAPHNE stands out because of its unique colours and the intense contrast of Stone that covers one of the walls. It has King Size bed and it can also accommodate a third person.
AVGI can accommodate up to 2 persons. It has small kitchen and shower with water massage.
THELPOUSA and NONAKRIS are charming because of the colour combinations that remind you of Toscana. They can accommodate up to 3 persons and they have fireplace, small kitchen and shower in the bathroom.
DIOMENEIA and IPPODAMIA, especially spacious and hospitable, can accommodate up to a four-member family and they have small kitchen and shower in the bathroom.
MYRTOESSA and ANTINOI, with exterior entrance, are youthful and comfortable. They can accommodate up to a four-member family and they have small kitchen and shower in the bathroom.
Description - Location, Distances
At the gates of Mount Mainalo, a land of bucolic romances, a historic place since the first days of the Greek Revolution, homeland of the father of the first Greek Democracy, Alexandros Papanastasiou, Levidi offers the visitor hospitality in a splendid mountainous climate, at an elevation of 850m and in a distance of just 90 minutes from Athens. In a distance of 15 there is the ski resort of Ostrakina, with very good ski slopes, chalet with restaurant and shelter.
Distances: Athens 160km, Tripoli 25km, Vitina 19km, Nafplio 65km.
Rates / Day / Room for the year 2015
All Rates in Euro ( € )
01.01.-31.12.
-
-
-
-
€

Breakfast: -

Lunch: -

Dinner: -
We cooperate with
Nahmobil
www.nahmobil.com
Nahmobil - the portal for travelling with public in Europe. Bus, train, ferries, flights, etc. and much more - sightseeing, places, etc).
The weather in Greece
Wetter online
Worldwide information about the weather all over the world with charts and maps.
Recommended links
Statistics
Users online: 70
Visits today: 310
Hits today: 2263
Visits total: 5473489
Hits total: 131246121
Counting since: 2012-01-01