VITINA HOUSE FOREST RESORT, Vitina, Arkadia, Peloponnese
Categories
HOTELS - (3)
( Dimitsana )
( Karytaina )
( Dimitsana )
HOTELS (3)
( Dimitsana )
( Tripolis )
( Vytina )
HOTELS (1)
( Agios Petros, Kinuria )
AP.-HOTELS B () (5)
( Pulithra, Kinouria )
( Levidi )
( Levidi )
( Dimitsana )
( Astros, Kinuria )
AP.-HOTELS A () (5)
( Vitina )
( Leonidio )
( Levidi )
( Kosmas )
( Vitina )
AP.-STUDIOS E (-) (1)
( Valtesiniko )
AP.-STUDIOS C () (3)
( Leonidio )
( Kosmas )
( Sampatiki, Kinuria )
AP.-STUDIOS B () (4)
( Xiropigado )
( Paralio Astros )
( Paralio Astros )
( Astros )
AP.-STUDIOS A () (4)
( Paralio Astros )
( Xiropigado )
( Vitina )
( Agios Petros, Kinouria )
AP.-STUDIOS L () (1)
( Ano Kardaras )
BUNGALOWS A () (1)
( Leonidio )
VILLAS A () (3)
( Paralio Astros )
( Kosmas )
( Levidi )
Contact - Summer
VITINA HOUSE
FOREST RESORT
VITINA
GR-22010 ARKADIA
Phone: +30 27950 29014, +30 27950 29015
Fax: +30 27950 29013
Mobile: -
Contact - Winter
VITINA HOUSE
FOREST RESORT
VITINA
GR-22010 ARKADIA
Phone: +30 27950 29014, +30 27950 29015
Fax: +30 27950 29014
| | |
| --- | --- |
| Category | A (****) |
| Rooms | 0 |
| | 0 |
Email: -
MHTE: -
Photos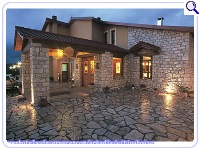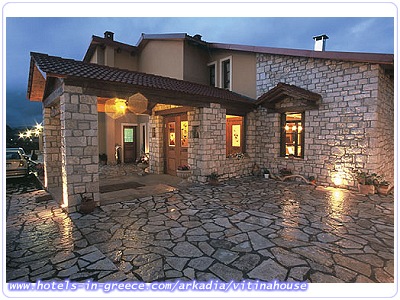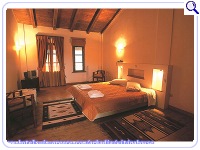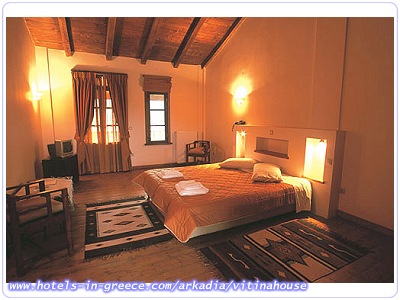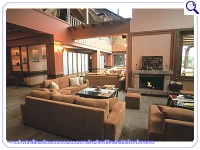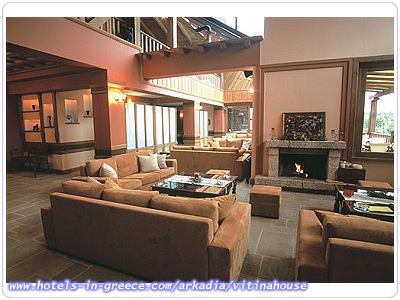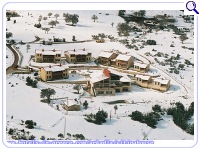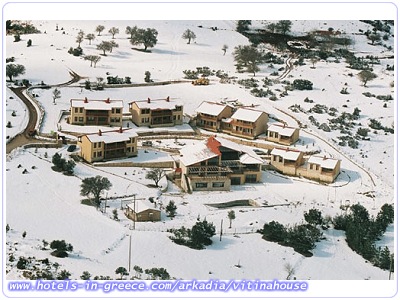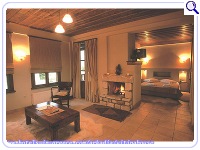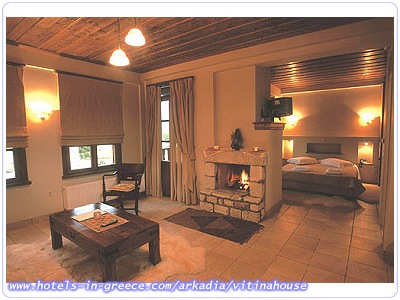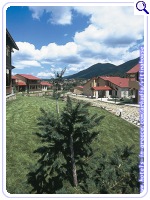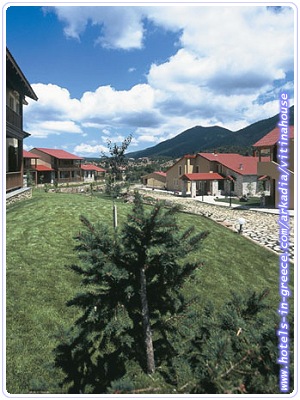 Description - Complex
In the beautiful town Vitina, at a distance of just 1.5km away from the central square, at an area of 13,000m2 there is the Furnished Apartments Hotel VITINA HOUSE FOREST RESORT. It consists of 9 buildings; one of which is the central building and around it the other ones are built in an arc-shaped design. In the central building you can find the reception area, bar, restaurant as well as two lounges with fireplace.
Description - Rooms, Apartments
The VITINA HOUSE FOREST RESORT consists of single-spaced and double-spaced apartments. The single-spaced apartments are 33m2, the double-spaced ones are 50m2 and they offer fireplace and some of them water massage. The double-spaced deluxe apartments are also 50m2; they are individual lodges and offer fireplace and water massage. All rooms have kitchen, fully equipped bathroom, television, individual heating and a view of mountain Mainalo.
Description - Location, Distances
The VITINA HOUSE FOREST RESORT is located 190km away from Athens, 40km from Tripoli, the capital city of the Prefecture of Arkadia and 12km from the ski resort of Mainalo. The area is ideal for forms of alternative tourism such as skiing, kayaking, rafting, bicycling, horse riding etc. You can also visit the sights in Vitina and the nearby villages such as the Silversmith and Goldsmith School in Stemnitsa, the Folklore Museum, the Monastery Filosofou in Dimitsana, the Museum of Waterpower, the Gunpowder Mills, the Krifo Scholio (Secret School) and the Folklore Museum of Vitina, the Library, Old Vitina, the Old Country House of king Otto and queen Amalia. You can also visit the lake Stimfalia, the Dam of River Ladonas and the Cavern of Lakes.
Rates / Day / Room for the year 2015
All Rates in Euro ( € )
01.05.-31.05.
01.10.-31.10.
01.06.-30.06.
01.09.-30.09.
01.07.-31.08.
-
-
€

Breakfast: -

Lunch: -

Dinner: -
We cooperate with